The Food University and Professional Status for a Standard Four Course Daily Menu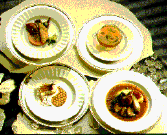 First and Second: appetizer, soup, egg dish and salad - these are usually served before the main course. Any two of the four are correct. Salads may be served either before or after the main course but not both.
Third: main course - must be accompanied by appropriate vegetable garnishes.

Fourth: dessert - hot or cold.