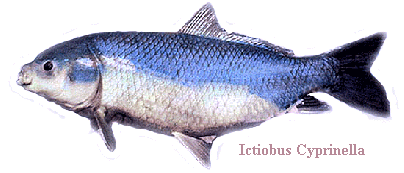 Buffalofish Ictiobus Cyprinella, Ictiobus Niger, Ictibus bubalis
redmouth bigmouth or gourdhead buglar, rooter. prairie smallmouth, suckermouth, channel, razorback
A medium fat firm flesh fish. These fish are flavorful but often overlooked because of their bony structure.
Frequently smoked, the smallmouth is considered to be the best.
Found in the Mississippi River tributaries, mainly Louisiana
The season is February to August.
| | | |
| --- | --- | --- |
| Market Form | Approximate Weight in Lbs. | Cooking Method |
| Whole, drawn, dressed or steaks (lean) | 2-25 | Bake, broil, pan-fry, deep fat fry |
| | | |
| --- | --- | --- |
| Purchased | Size | Yield |
| Round | 8-10 lbs. | 100% |
| Drawn | 6-8 lbs. | 80% |
| Fillets | 4-5 lbs. | 50% |
---