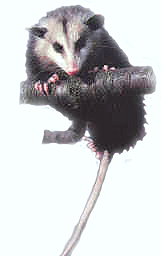 Opossum, eaten in the Southern United States, is sometimes stuffed and roasted.
Opossum should be handled in the field as any game. The blood should be drained and the entrails removed. The body cavity should be wiped clean. When hung for 48 hours, they are ready to be skinned and cooked.
Treat as for pig by immersing the unskinned animal in water just below the boiling point. Test frequently by plucking at the hair. When it slips out readily, remove the 'possum from the water and scrape. While scraping repeatedly, pour cool water over the surface of the animal. Remove small red glands in small of back and under each foreleg between the shoulder and rib.
Opossum meat is light colored and tender. Excess fat may be removed, but there is not a strong flavor or odor contained in the fat. Chill to firm up fat for easy removal.

[FoodCollege] [PorkCollege] [FoodUniversity] [ProduceCollege] [SeafoodCollege] [PoultryCollege] [DairyCollege] [PantryIngredients]