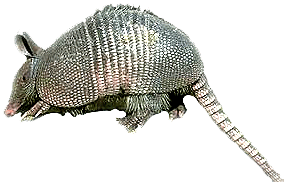 There are twenty different species of armadillos. They belong to the order Xenarthra, family Dasypodidae. The most easily recognized feature of an armadillo is itís shell. All armadillos have shells, made of true bone, that cover their backs. Armadillo are timid, and live in warm grasslands and forests from South America up to the southern United States.
Armadillo was known as the poor man's pig during the depression and can be baked in its shell or armor with herb stuffing. It can also be made into spicy sausage or used in chili. This is practiced from Texas to South America.
The armadillo is the only animal, aside from humans, known to carry leprosy. For this reason it is illegal to sell a live armadillo in the State of Texas. Leprosy aside, the State of Texas has adopted the armadillo as its official state mammal.

[FoodCollege] [PorkCollege] [FoodUniversity] [ProduceCollege] [SeafoodCollege] [PoultryCollege] [DairyCollege] [PantryIngredients]